Comprising four incredible athletes; Tahnee Seagrave, Kaos Seagrave, Phoebe Gale and Dennis Luffman, we're stoked to have this epic crew from the UK joining the Steadyrack team. They're a dedicated group, constantly training, racing, and perfecting their technique. For those long days out on the trails, giving it their all and riding hard, the team needs to store easy when they arrive back at HQ. We've kitted out their bike storage container with Steadyracks, giving them the ultimate storage solution.
Shop FMD's bike storage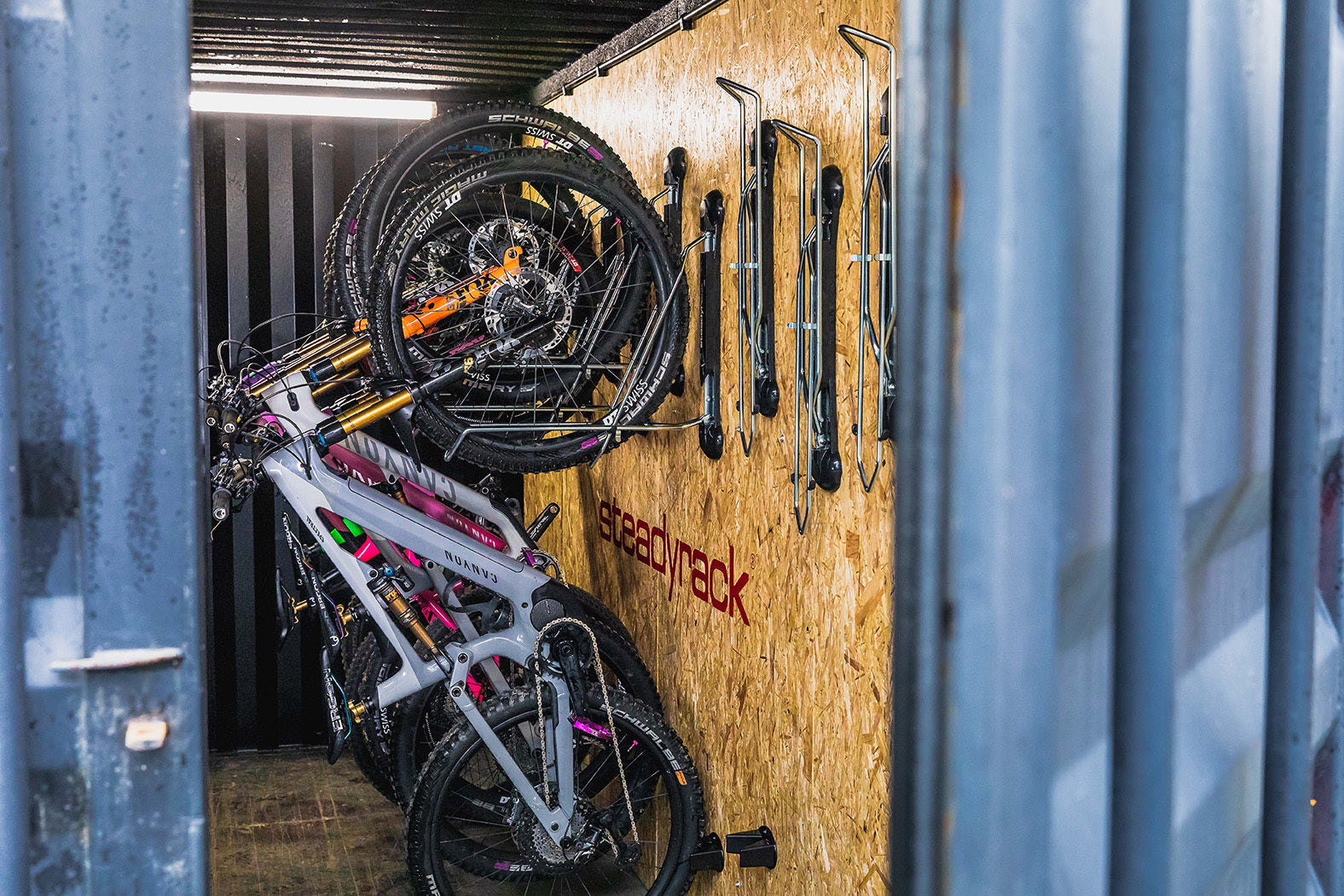 FMD Racing uses our MTB Rack to organise their storage.
The Mountain Bike Rack is best for:
Mountain Bikes, eBikes, Gravel bikes
Designed for bikes with:
Wheel Diameter: 20'' – 29''
Tyre Width: 2.1''– 2.8''
Maximum Weight: 35kg
No Fenders/Mudguards
Best for
MTB, eMTB, Gravel
Wheel Diameter: 20'' – 29''
Tyre Width: 2.1''– 2.8''
Maximum Weight: 35kg
No Fenders/Mudguards
The Mountain Bike (MTB) Rack
Our Mountain Bike (MTB) Rack is designed with larger and stronger folding arms to handle both regular MTB tyre sizes as well as plus size tyres. In fact, our MTB bike rack is also suitable for any bike with larger tyre sizes and including eBikes and heavy bikes up to 35kg.
If you have different brands and models of bike there's no need to worry about the frame geometry or size. As long as they have round front wheels they will fit in our racks!

Like all of our Steadyrack bike wall mounts, you can swivel or pivot your bike side to side up to 160 degrees to get your bike as close to the wall as possible. The vertical mountain bike rack will also fold away when not in use for maximum storage and space efficiency. Our MTB Bike Racks can be mounted on any structurally sound wall or vertical surface, giving you peace of mind whether you're hanging your MTB in a hallway, in a garage or on a balcony. Wondering if our Steadyrack MTB wall mount is right for your bike? Read more about how to measure your bike.
Follow FMD Racing on Instagram